Heralded as one of Africa's friendliest and most stable countries, Ghana is going to be our home for the next three months. This will be our first time in Africa, and we couldn't be more excited. We plan on diving right in, and immersing ourselves in the country's culture, cuisine, and history. We'll hopefully get to meet some of the locals … and we'll definitely be eating loads of fufu. The next 91 days are going to be a wild ride.
Why Ghana?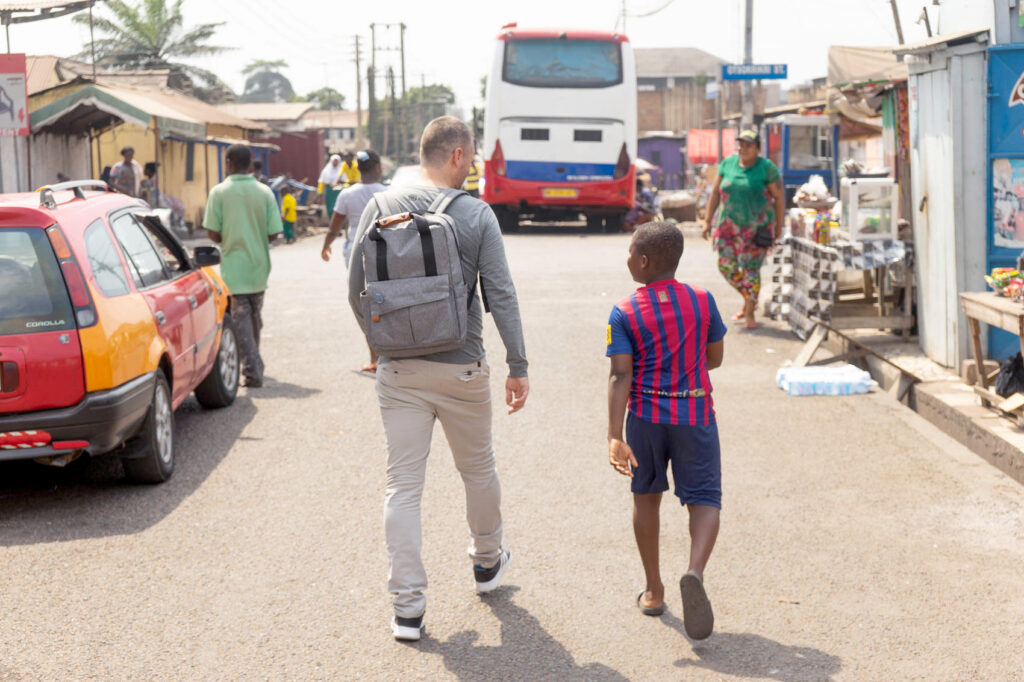 Looking at the map of our travels over the past ten years, we noticed a prominent blank spot: Africa. The fact that we've lived in so many countries, from Asia to the Americas, and never set foot in this massive continent seemed wrong… almost like we were avoiding it. And perhaps that was true. Whether right or wrong, Africa feels more foreboding than other destinations, and so we've always put it off. "Sure, we could do Zimbabwe for 91 days, but doesn't Sri Lanka sound easier? Let's do Sri Lanka."
No more! This is the 20th iteration of our blog, and we could no longer make excuses. So we set to work learning about the continent… and we had a lot to learn! I consider myself pretty solid in terms of geography, but there were countries that I would have never been able to place on a map. Most of them, in fact. My first crack at an African geography game, where you guess the location of various countries, my score was 29%.
I was shocked by my ignorance. Lesotho is a country? I thought Swaziland was just a general term for a savannah or something. And what about Guinea vs. Equatorial Guinea vs. Guinea-Bissau? It's easy to scoff… after all, should I really know where Mauritania is? But yeah. I should. It's a giant country of millions. At the very least, I should know where it is, the name of the capital, and some general facts about it.
So we took a couple months to learn about Africa. And after our basic education was complete, we compiled a list of every country, ranked by a variety of factors: Safety, Internet Access, Things to See, Comfort, and a completely subjective bonus of how giddy with adventure-lust the country's name made us. By the end of this process, a clear frontrunner had emerged: Ghana. Both Jürgen and I were surprised by the result, but numbers don't lie. (In case you're wondering, second place went to Uganda. Maybe next year!)
But Ghana seems like a perfect introduction to Africa. It's one of the most stable democracies on the continent, boasting a long streak of multiple democratic transfers of power, free of the coups and bloodshed that seem requisite in other nations. The national language is English, which is obviously a huge help to us. It's relatively prosperous, and the capital, Accra, is not only a burgeoning cultural and IT hub, but among the safest cities in all Africa. And while Ghana doesn't have any "famous" sights, it is incredibly diverse, offering everything from jungle safaris to paradisiacal beaches.
Our Plan in Ghana
Although we're pretty mobile, internet is a huge deal for us — it's how we survive, and we simply cannot live without it for an extended period. For that reason, we're mostly restricting ourselves to Ghana's cities. We plan on staying the first month in Accra, then making our way north. We'll spend a couple weeks in Kumasi, and then a couple more in Tamale. Next, we'll head over to Wa, hitting the Mole National Park along the way. Then, we'll finish up with some relaxation time on the Gold Coast, staying in either Elmina or Cape Coast, before making our way back to Accra.
If you're familiar with Ghana, and have any recommendations for us, we'd love to hear them. Get in touch with us, leave a comment below, or reach out on any of our social media accounts. We always get the best tips from readers and locals, so we'd love to hear from you.
And wish us luck! We couldn't be more excited about this 91 day adventure in Ghana… it's been a long time in planning, and we expect it to be amazing.