An Incident at Black Star Square
Accra might live and breathe in neighborhoods like Adabraka and Osu, but its monumental heart is at Black Star Gate. We were standing in the shadow of this gate when, just meters away, an accident occurred that will play a starring role in our nightmares for years to come.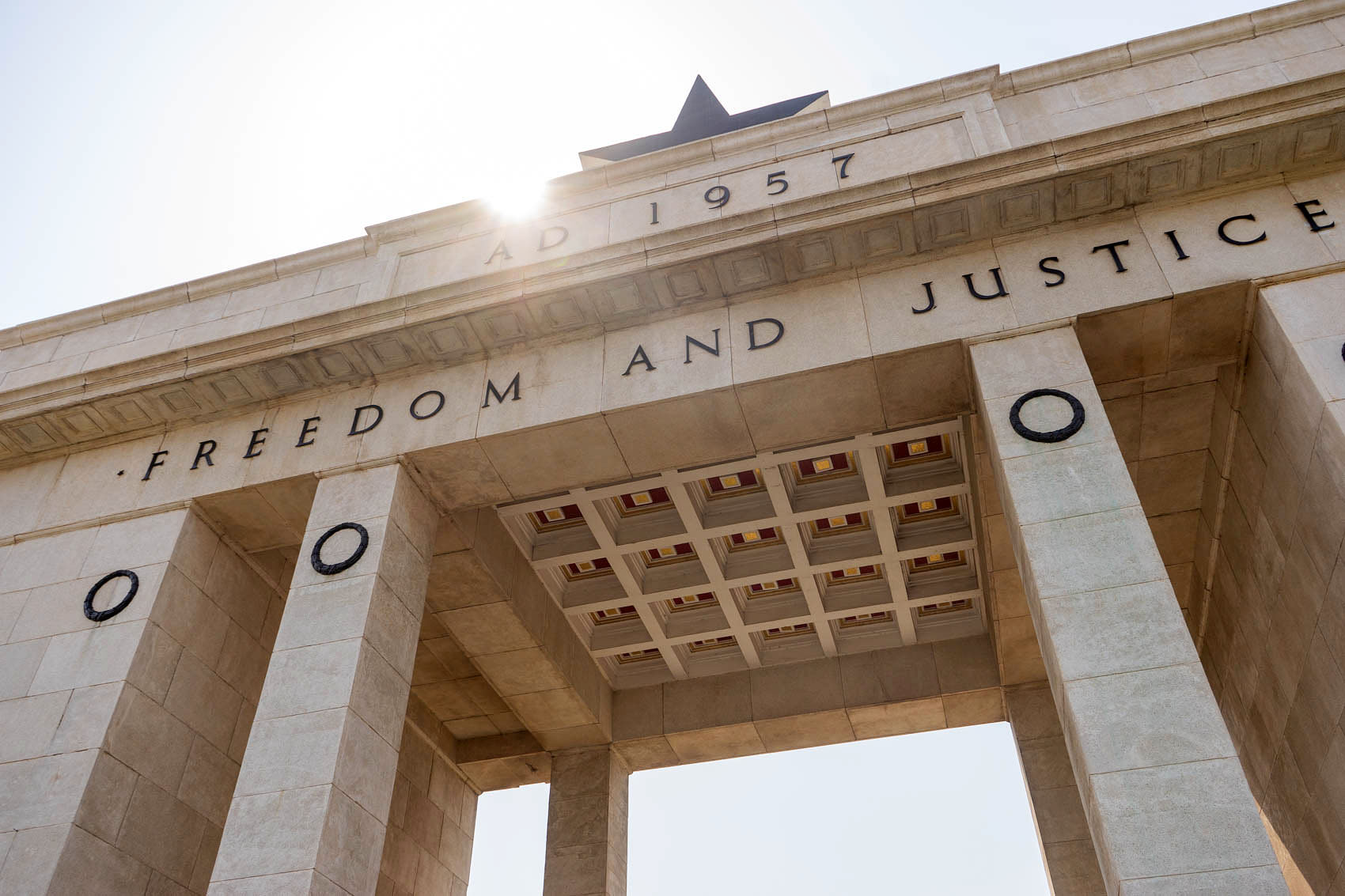 Black Star Gate is also known as Independence Gate, a nonchalant naming system mirrored by Black Star Square / Independence Square immediately to its south. To the north of the gate is the massive Accra Sports Stadium, which opened in 1952 and seats 40,000. In 2001, this stadium was the scene of Africa's worst-ever sporting disaster, when police fired tear gas into the stands during a match between Accra's Hearts of Oak and Asante Kotoko. 142 people would die in the ensuing stampede.
We were surprised to find so few people in and around Black Star Square. The fact that there are big monuments doesn't mean that it's a place which figures in the day-to-day lives of most Ghanaians. Indeed, it seems specifically designed to drive people away. Apart from yearly Independence Day celebrations and military parades, it hosts nothing more than a massive tableau of dust.
But we weren't completely alone. The lack of people and the unique architecture make Black Star Square popular for photographs. We happened to meet a guy who designs and sells Ghanaian fashion in the States. He was robed in one of his garments, and accompanied by his stunning sister-in-law who happens to be a model. The bright and boldly patterned clothing added a much-needed splash of color to the otherwise drab landscape.
Once we were done at Black Star Square, we turned our attention toward the gate. Upon arriving, we were approached by a guard who offered to take us up to the top. By now, we've learned it's simply best to accept such offers, hoping that they'll be worthwhile… and this one certainly was. Our guide let us onto the roof, offered to take pictures of us, and provided a fascinating history lesson.
We had returned to ground level, where he was delivering one final story about the origin of Ghana's "Black Star" nickname, when our collective attention was suddenly grabbed by a van speeding out of control, directly toward us. Traffic is supposed to go around the Black Star Gate, and the through-pass is gated off, but this van smashed through the barriers at full speed. It all happened incredibly quickly, but also in slow-motion. At the last second, the van veered to the left and crashed head-on into the monolithic concrete of the gate.
The driver was not wearing a seatbelt, and was thrown violently against the windshield. We saw his body bounce back into the rear of the van. The windshield popped out of its frame. The passenger had somehow been tossed from the van, and was now sprawled on the ground screaming. We were in shock, but decided not to mix into a scene that was already attracting both those trying to help, and those eager to gawk. The driver was retrieved from the van … we saw him crying and vomiting, so at least he was alive. But he certainly had major internal injuries. It was a serious crash.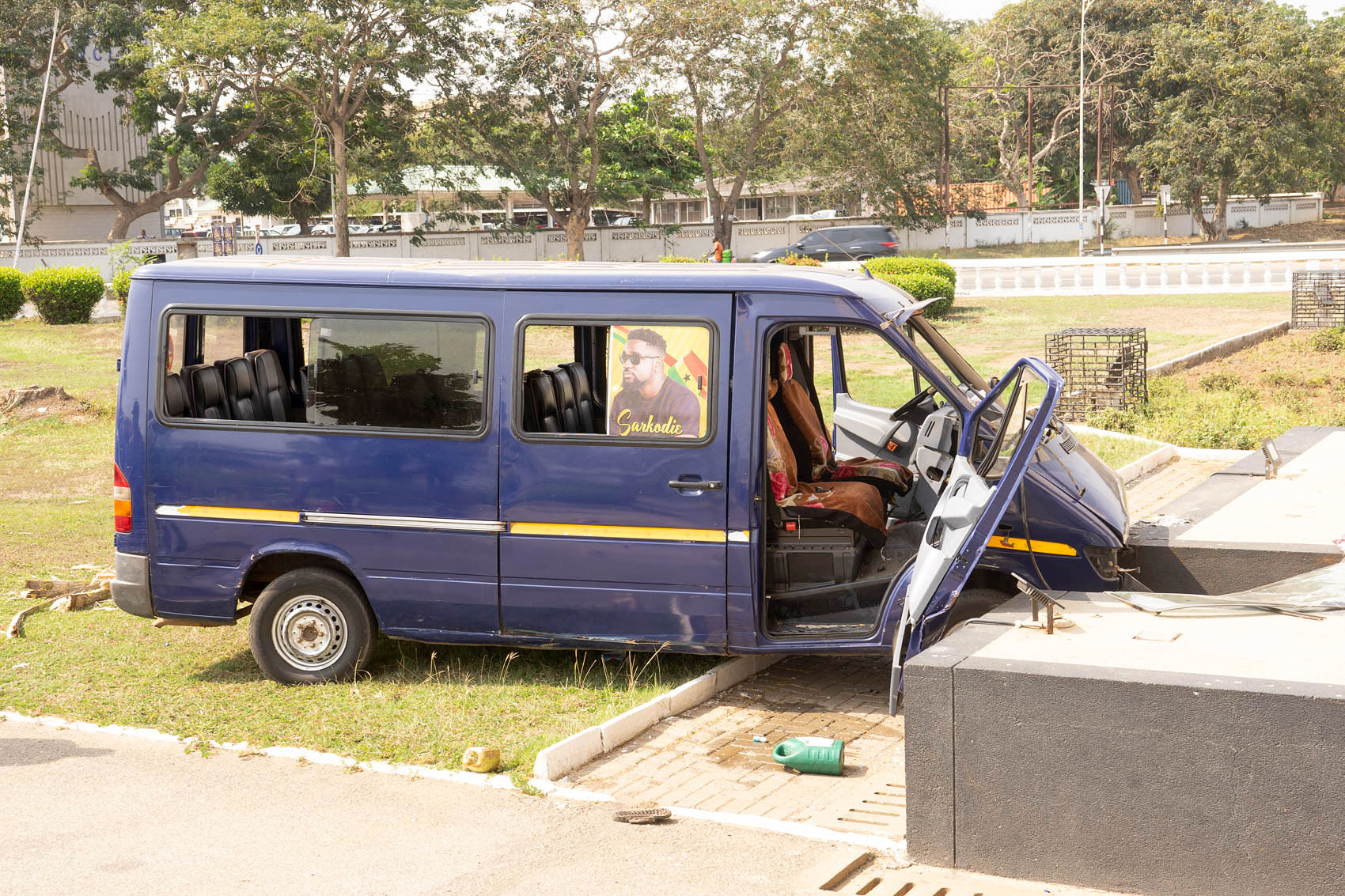 Once our guide had finished helping out, he returned to us and picked up the story of the Black Star moniker, without missing a beat. But our attention was broken. I mean, his shirt was covered in blood. I have no idea if scenes like this are commonplace in Ghana, but we were totally shaken, and totally unable to process anything he was saying.
We excused ourselves, and headed out. In my life, I've seen car crashes, and even been involved in them. But I've never seen something like that in such a historic area. Our theory is that the brakes went out, and the driver panicked — he seemed too young to have had a sudden heart attack or anything.
From now on, every time we hear "Black Star Square", we're going to instinctively react with panic. But this is still an interesting area, and one well worth seeing while in Accra. Just stay alert!