Mountains are frequently adorned with intimidating adjectives, meant to warn off anyone foolhardy enough to consider traversing them. Those hills are… ominous! Unforgiving! Treacherous! Cruel! But in the middle of Ghana, you'll find a much more friendly mountain: The Abusa Prayer Mountain or "Mountain of Mercy".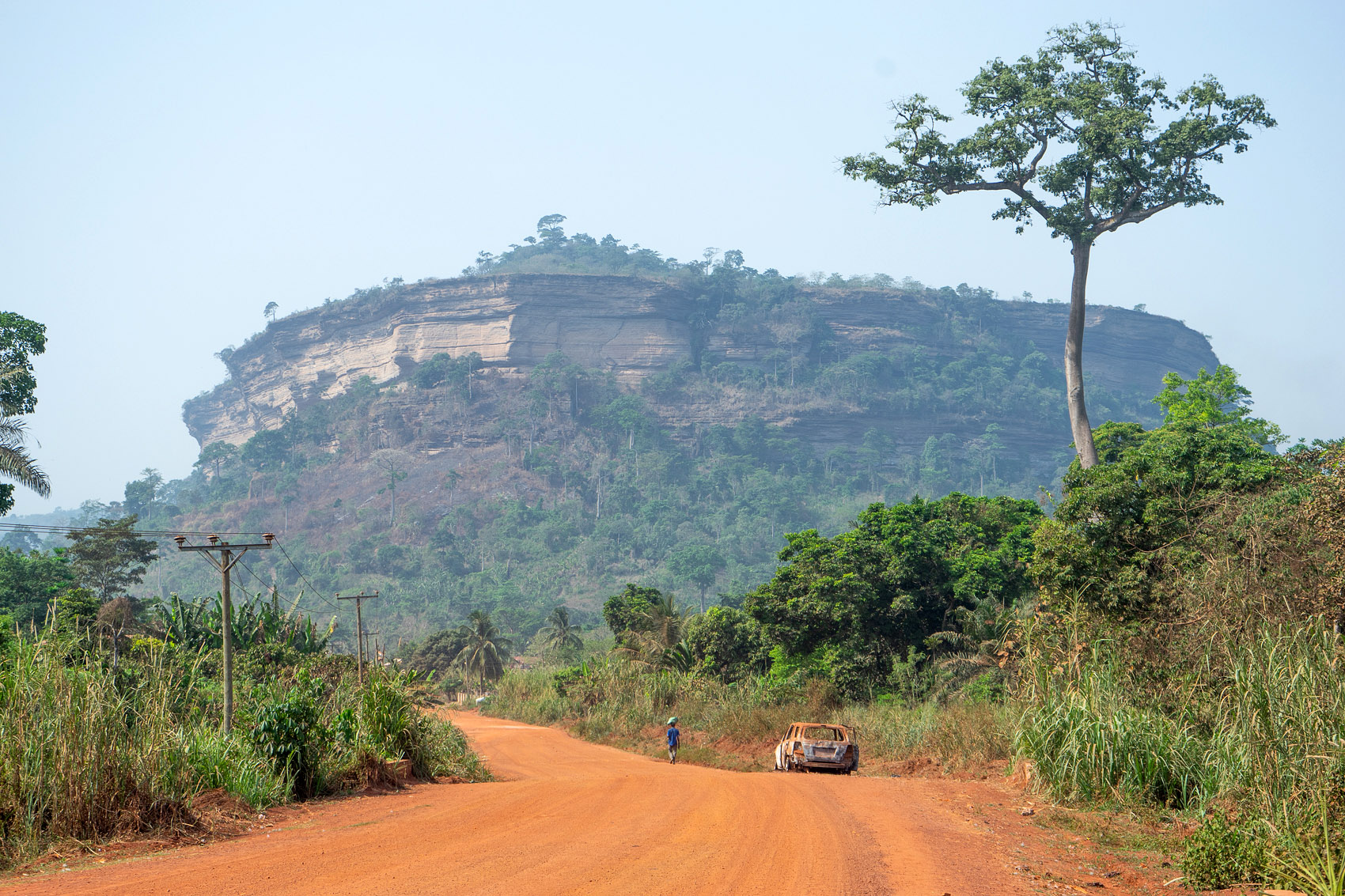 After having visited the Kente weaving village of Bonwire, we proceeded to Effiduase, which is the regional transport hub of Sekyere East — the handicraft-heavy region just east of Kumasi. We stayed long enough to munch down some kenkey, before hopping a shared taxi to the smattering of houses known as Banko, where we'd be staying the night at the Moon and Star Guesthouse. This is a pleasant hotel in an unexpected area, run by a Dutch woman who's been living here for years, and we were very happy to discover it.
After checking in, there were about four hours of daylight remaining: perfect for a round-trip walk to the mountain and back. Our road led through Banko, and then a couple other settlements whose names we never learned. The whole way, we were accompanied by students, eager to practice their English, or groups of younger kids who alternated wildly between shy and bold. Even when we were alone, the constant cries of "Obruni! How are you!" kept us laughing and powering forward.
After an hour, we arrived at the mountain, which might technically be better described a big hill. But given the distance we had already trekked, the lack of shade, and the day's considerable heat, it was no cakewalk. Happily, the path up to the summit is well-trodden; this mountain is a popular place of worship, and entire congregations ascend every Sunday. They do it to praise the lord! To witness his glory from on high! To be closer to his magnificence and everlasting mercy!
Alright, some of these last sentences weren't ours, but those of Prophet Isaiah — a Nigerian whom we met halfway up the mountain. Apparently, Isaiah lives permanently on the slope, and receives his prophecies at the summit. We had been enjoying the mountain's solitude — really the first such moment we'd yet experienced in overpopulated Ghana, where you can almost always find a set of eyes watching you. The only sounds were the breeze against the leaves and the far-off chirping of birds until, suddenly, Isaiah appeared.
Without being asked, he attached himself to us, styling himself immediately as our guide, providing answers to all the questions we weren't asking, and gleefully matching our pace as we first tried to outrun him, and then slowed down to a crawl in an effort to bore him. We've rarely encountered anyone so absolutely inured to overt signals of displeasure. Isaiah was simply not going to be denied the pleasure of company (nor the promise of a sizable tip), and eventually we had to give up on the idea of a quiet, enjoyable hike. "Fine Isaiah. Tell us all about your life."
It wasn't as bad as I'm making out. He was very friendly, and even if it wasn't the experience we'd been hoping for, it wasn't a punishment to chat with him. Anyway, he could have been screaming in my ear, and I would have still been enjoying myself, just thanks to the view and the gorgeous panoramas encircling us on all sides. This was the first (and really only) independent hiking we'd do in Ghana… but it was a good one.