It's hard to describe the feeling when first discovering an unbelievably beautiful beach with no other tourists — just yourself, the sand, the palm trees, and the waves. It's something like excitement, mixed with a sudden sense of feverish possession. You know what I mean, as happy as you are, you're equally anxious that someone else is suddenly going to arrive. The beach at Ankobra is lovely, and it is precious, and it is mine. HSSSSS!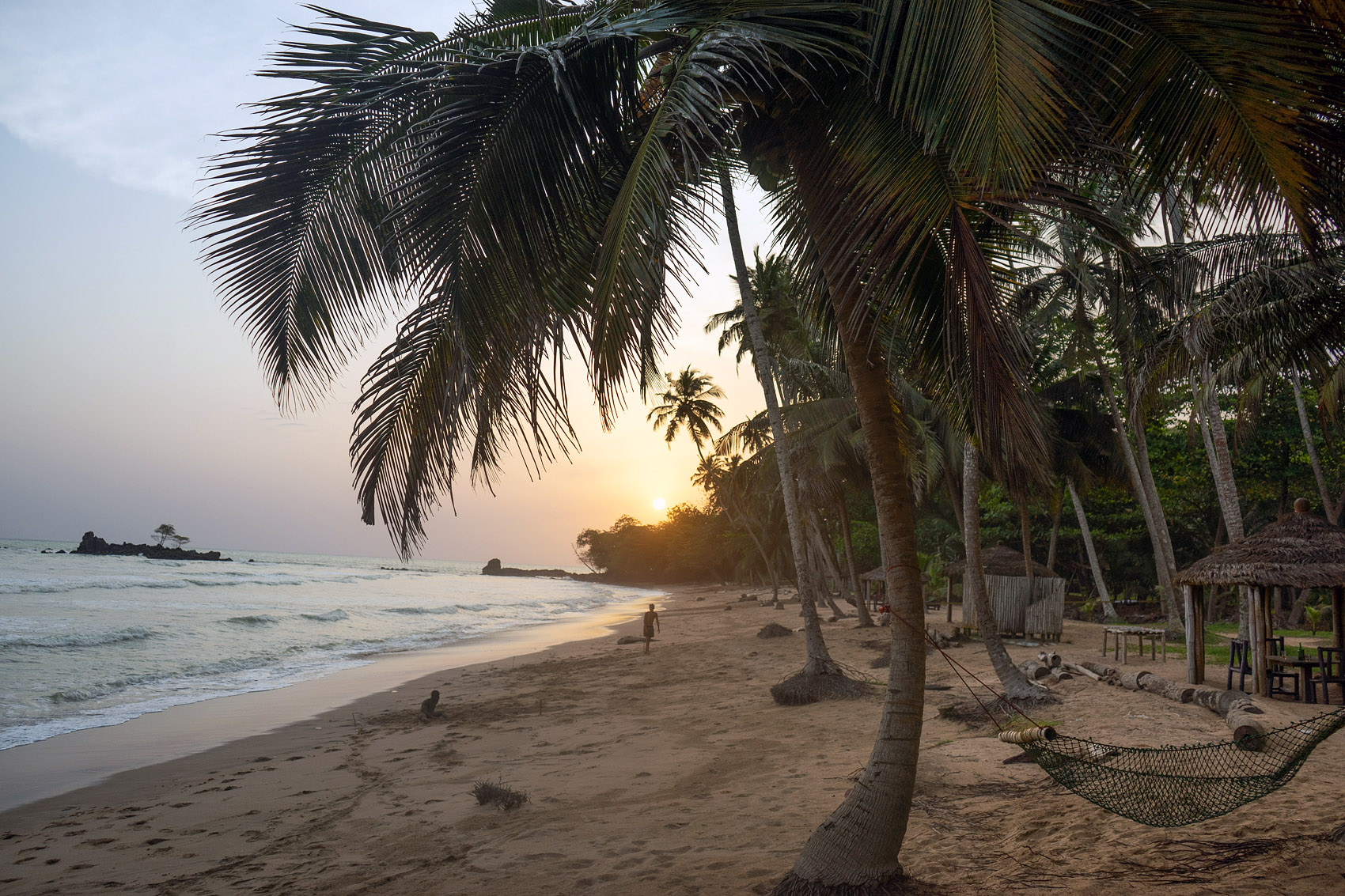 The week we had spent in Elmina was more stressful than anticipated. The town was extremely small, and although our hotel was nice, every excursion was a struggle. The people there were less tolerant of tourists, there were no restaurants or grocery stores to speak of, nor could we find a single ATM anywhere in the town. Or shampoo. We had been in desperate need of shampoo for over a week, and could find it nowhere; not at the hotel, not in any local shop. It was driving us insane. (It turns out, rubbing a bar of soap into your hair is alright for a couple days, but not advisable for longer than that.)
All this is to say, we were ready for a nice little getaway… and that's exactly what we got at Ankobra Beach Resort, just outside the town of Axim. We even splurged, and asked them to send a driver all the way to Elmina to pick us up. From the moment we stepped onto the premises, we felt more relaxed. This is an eco-resort, founded some years ago by a German-Ghanaian couple who recognized the potential of this beautiful and almost completely untouched beachfront property. There are a number of small lodges, set along a path in the verdant semi-jungle which has been left to flourish on site. We found ours, took a quick nap, and then went to the beach.
And the beach is where we would stay throughout the weekend, except for a small excursion to Axim's Fort Saint Anthony. It was during the middle of the week, and in low-season, so we were thrilled to find ourselves completely alone on the beach, except for the staff of the lodge. The Ankobra gets its name from the river which runs just to the west of the property; it's possible to take boat tours of the Ankobra River, which is over 200 kilometers in length and was once an important conduit for trade, but we opted out, happy to spend more time on the sand.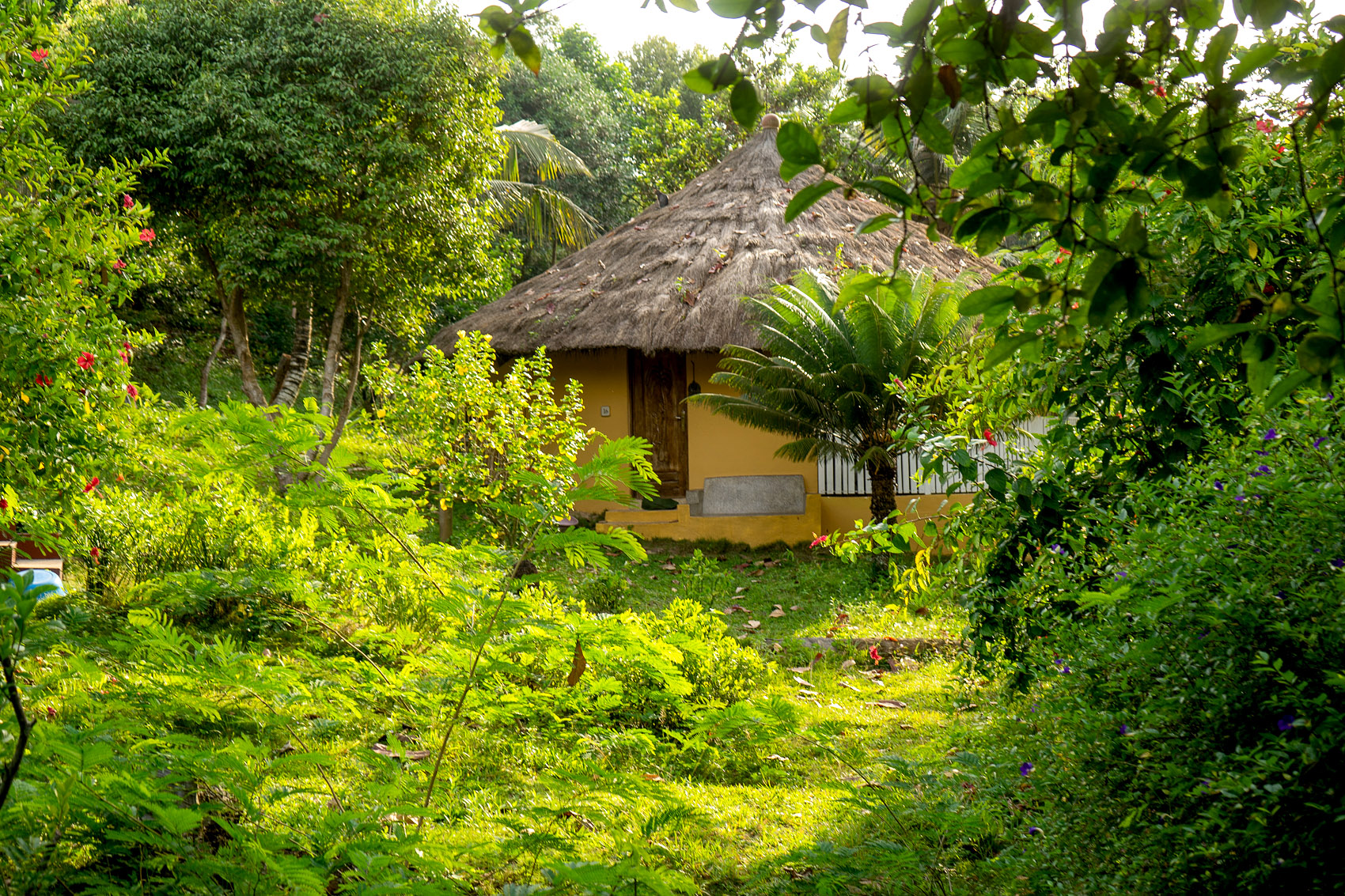 We had booked online, and the price had been pretty good, but we were shocked to see that the rate advertised outside the hotel was nearly half the internet rate; it's something we had noticed this other places, too. Many hotels in Ghana seem to have recognized that the people who book online are foreigners willing to spend more, while those who approach directly are more likely locals who would never pay that much. It's probably definitely worth calling ahead at most places, and inquiring about rates, rather than just booking online.
Regardless, we loved our stay at the Ankobra, with its amazing palm tree swing, the pounding waves, the selection of board games, the excellent food, the eco-friendly attitude, and the wonderful views over to Axim. This would be the perfect place to come for a week-long vacation… and we were already discussing a return, immediately after checking out.