The Canopy Walkway of Kakum National Park
One of the most well-known adventures Ghana has to offer is a stroll over the forest canopy of the Kakum National Park, along an elevated walkway. This attraction draws hordes of both Ghanaians and foreigners, and for good reason. Even though you're too high up to spot many animals, it's thrilling to have a bird's eye view — and definitely not for those who have a fear of heights.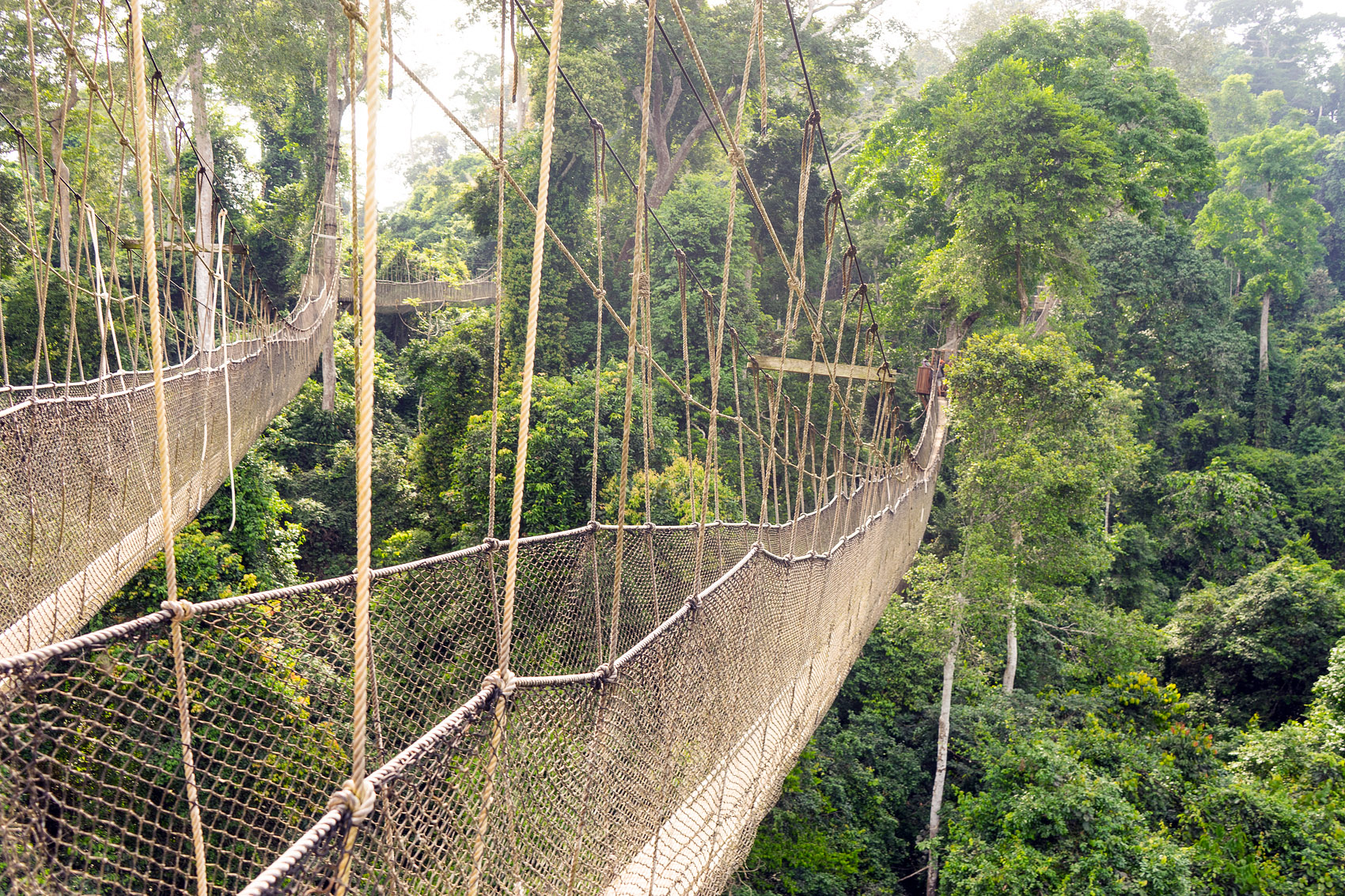 Even though Kakum is a "real" national park with a great diversity in flora and fauna, this is not the reason most people come to visit. Nope, most visitors are here for one reason only, and that's the famous elevated ropeway. It's worth keeping in mind, though, that you can visit Kakum in a more traditional way, should you choose; they have a number of guided walks around the forest. You have the chance to see elephants, monkeys and antelopes, and a wide variety of birds, and the park's proximity to Cape Coast makes it convenient.
But we showed up with the same intention as most of Kakum's visitors, and directed ourselves to the walkway, which we'd be traversing with a medium-sized group. It was late afternoon; not the ideal time to see animals, but that wasn't the point. The point was the thrill of being so high up, walking across a rope bridge straight out of Indiana Jones, and taking in the incredible views.
The tour lasts about 45 minutes; the walkway itself is only about 350 meters, and although the guides have a reputation for rushing people across, we got lucky. It was the end of the day, and there was no second group behind us, waiting impatiently, so our guide was happy to let us take our time. The walkway was solidly built, so I never felt in danger … but it is pretty wobbly (much like you'd expect a rope walkway to be), and anyone who suffers from vertigo or a fear of heights would surely have a panic attack.
We had been a little skeptical of visiting Kakum, due mostly to its popularity and the reputation for pushiness, but we were totally happy with our experience here. It was more fun than I had expected, and even though we didn't see any animals from so high up, it was a perfect little excursion from Cape Coast.