Normally, it's good to stick to your principles. But there are times when the correct course of action is to take stock of a situation, and bend accordingly. This happens more often than usual when you're in a foreign country. And when you're traveling in Africa, it's practically the only way to get along. Today, we violated our sacred practice of ignoring bothersome local "guides" … and it was the best decision we could have made.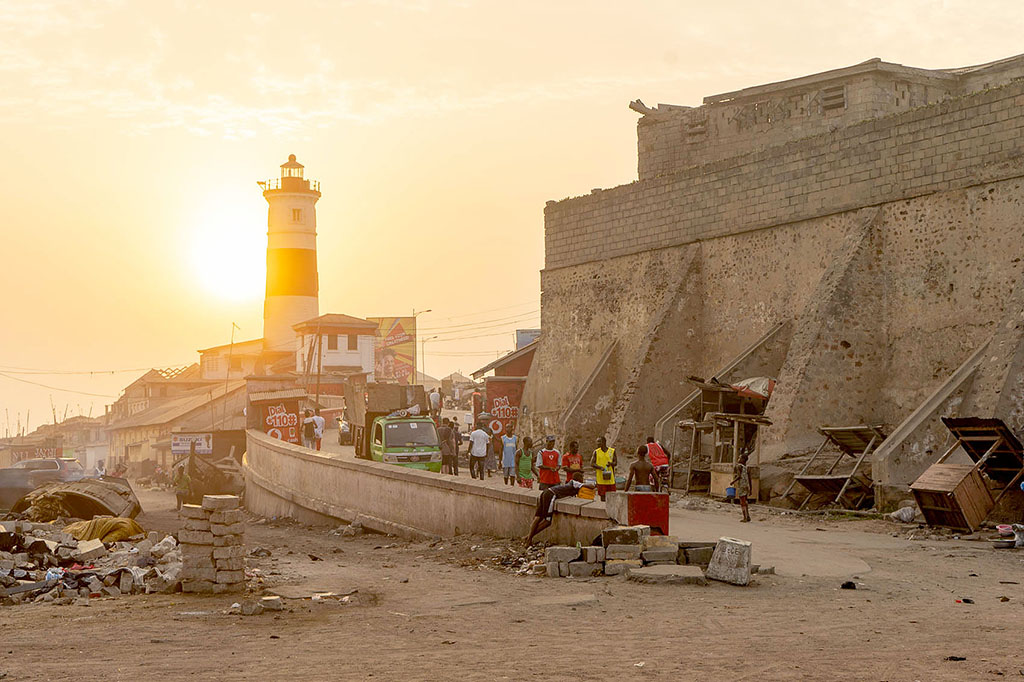 Leave. Us. Alone.
We started our day in front of the Jamestown Lighthouse. Although there's been a lighthouse here since 1871, the current model dates from the 1930s. Painted bright red and white, the lighthouse stands out prominently, and serves as a useful orientation point. More importantly, it's a honeypot for tourists… and the touts who prey upon them.
As we were leaving the taxi, literally before my left foot had touched the ground, we were approached by a "guide". He shook our hands and immediately started in on the history of the lighthouse, without giving us a chance to accept or refuse his service. "No thank you," we insisted, "No. Please leave us alone." Once we were rid of him, Jürgen took out his camera, and another guy ran up to us yelling "No photos," and pointing at a sign on the lighthouse which said as much. Apparently, mere photographs of the lighthouse are prohibited, unless you're with a guide.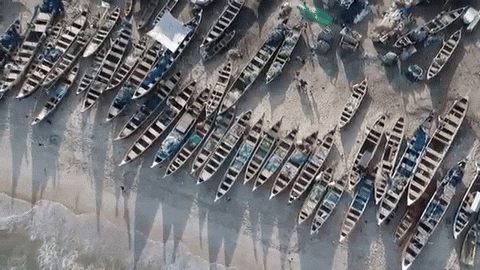 Irritated beyond measure, we walked away, and were even considering an early return home. But first, we decided to check out the Brazil House, just a few blocks away. As we stepped inside, we ran into yet another guide, and for whatever reason, we decided to hear him out. Maybe because he was friendlier than the others. Maybe because he was already with another tourist. We negotiated a price that seemed fair and shook hands to seal the deal.
And then, we enjoyed the most rewarding afternoon of sightseeing that we've had in years.
Usshertown
It started out pretty standard, with a short tour of the Brazil House, founded by the Tabom people in the 19th century. After the end of slavery in Brazil, a group of newly-freed families arrived in Accra. They could only speak Portuguese, so when asked "How are you?", their response was "ta bom," or "I'm fine"… and so they became the Tabom. Inside a spacious courtyard decorated with frescoes, a bunch of kids were playing soccer, pausing only to run over and give us high-fives. (Passing out high-fives to kids would become a recurring theme of the day.)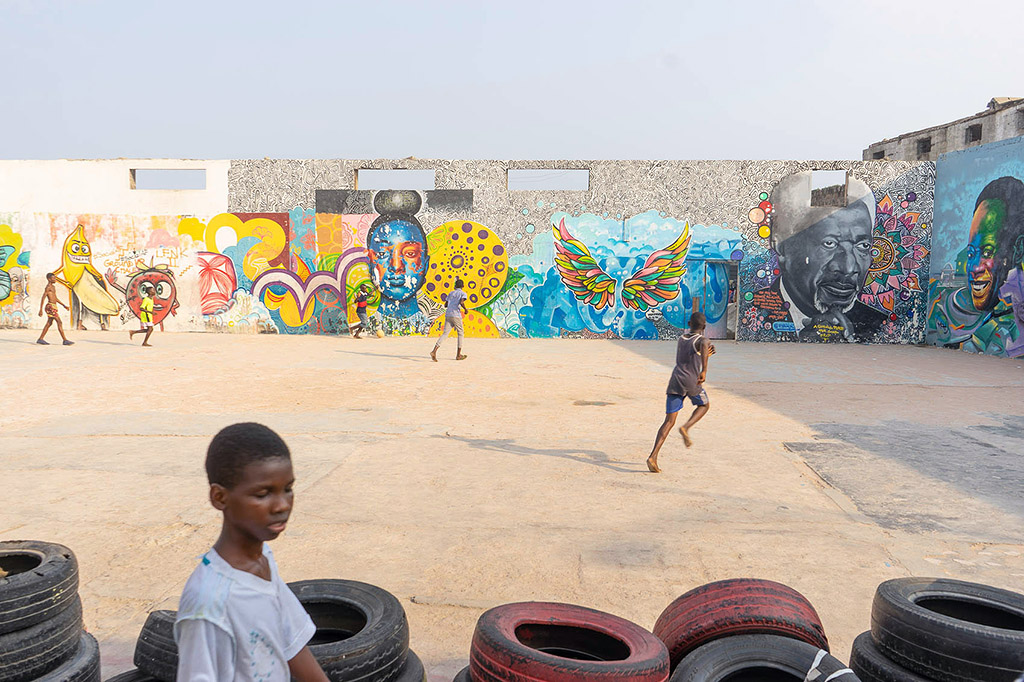 Next, we moved on to the Ussher Fort. Built in 1649 by the Dutch, this was a slaving station, and later a Ghanaian prison. More recently, it's been used as a center for refugees fleeing Sudan's Dafur region. Today, it's a museum dedicated to the slave trade, although we found it closed for renovations.
Into the Alleys
From here, the tour improved immensely, as our guide, Emmanuel, led us off the main drag, and into the heart of Usshertown. It would have been possible for us to tour these insanely compact alleys on our own… but would we have chanced it? We definitely wouldn't have been able to take so many pictures. Some of the locals were displeased by the camera, and not shy about sharing their feelings. Emmanuel, though, would apologize on our behalf, and ask permission where necessary.
The best moment came about halfway through, when a gang of ten preschoolers materialized out of the dust, chanting "How are you how are you how are you". They ran straight at us, hugging at our legs, and trying to hold our hands. It was so cute and unexpected… I must have had the goofiest smile on my face as I dealt out high-fives like candy, responding "I am fine I am fine I am fine!"
We paused for a large beer at a nondescript neighborhood bar, and had a chance to chat with Emmanuel about the state of Ghanaian politics and the struggles of everyday life. Then, we continued to the unbelievable fisherman's village on the beach below the lighthouse.
The Jamestown Fishing Village
On a brave day, we might have entered the alleys of Usshertown. But there is no way in hell that we would have even considered waltzing into the fishing village of Jamestown. And that would have been the correct decision. This isn't the kind of place you'd want to randomly explore. Taking pictures here without permission would feel like a gross, voyeuristic sort of tourism. This is a place of severe poverty, home to the marginalized Ga people, who eke out the most meager of livelihoods on the open sea.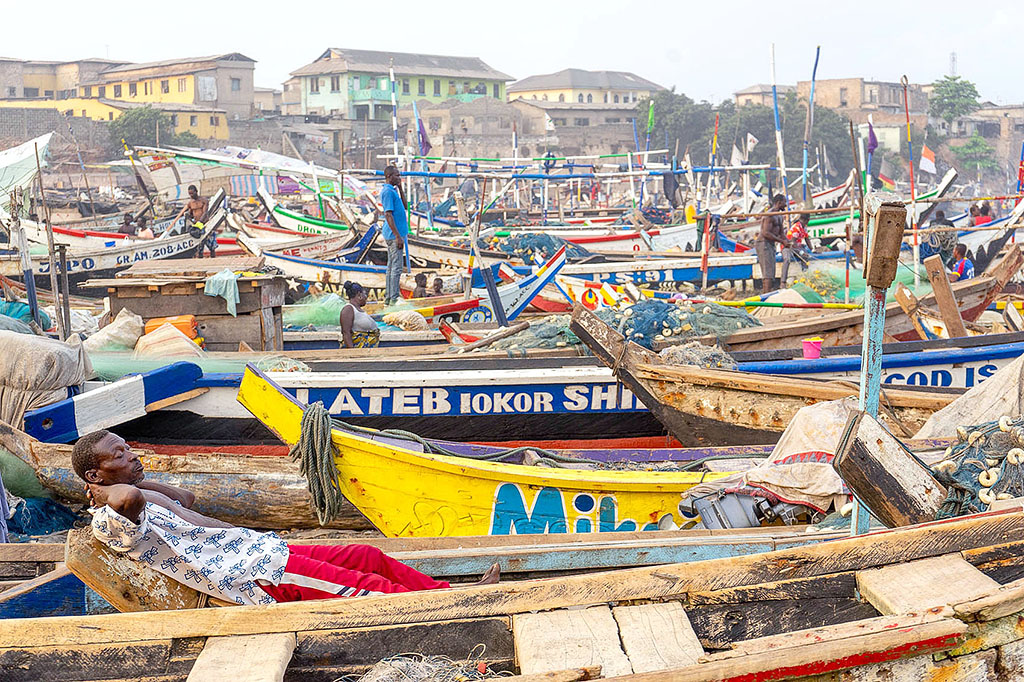 But although the poverty was severe, it wasn't necessarily depressing. With Emmanuel at our side, introducing the people he's lived among his whole life, we felt at ease. We walked past huge barrels where women were smoking fish, toured the long boats dug out of single pieces of wood, watched kids play with a handmade type of pinball board, and chatted with some of the fishermen.
Emmanuel had told us that he helps run an NGO school here at the fisherman's village, educating the kids who would otherwise be forced to work their childhoods away. At first we thought, "Yeah sure, we just happened to run into the headmaster of a non-profit school." Our skepticism was understandable, but we were happy to learn that it was misplaced. It was clear that everyone in the town knew him — especially the kids. And when he unlocked the school's doors, any doubts we were still harboring disappeared.
We've arranged a return trip to the school, for next week, when the kids will be there, and will write more it later.
We got seriously lucky meeting Emmanuel, who turned out to be not just a great guide to the area he's lived in his whole life, but a truly cool guy with his heart in the perfect place. And to think, we might have treated him as just another tout, and ignored his offer to take us around! Thank god that, at least this time, we had been willing to relax our defenses.
If you want to take a similar tour of this fascinating but intimidating section of Accra, we can definitely recommend Emmanuel. Get in touch with him over email: samuah20@gmail.com.