Ike's Bar and Grill … and the Bats
When we initially visited Ike's Bar and Grill, on our first day in Kumasi, we weren't expecting to immediately discover our favorite hangout spot in down. And we definitely weren't expecting the performance in the sky: every night, thousands upon thousands of bats launch from trees in the nearby zoo, and take to the air.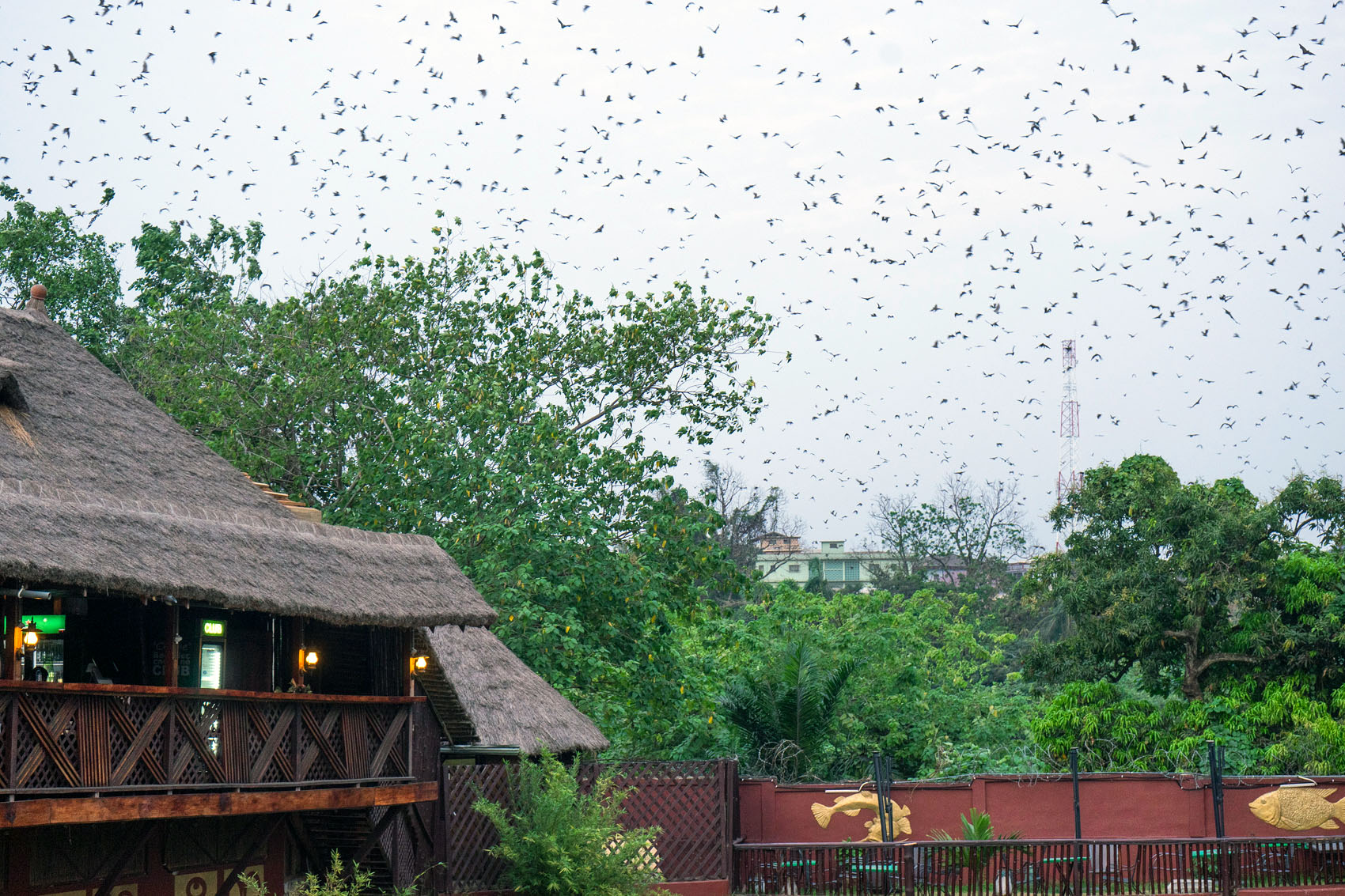 We went to Ike's on our first evening in Kumasi, simply because it was the closest bar to the Okomfo Anokye Sword Site, and we were thirsty. But this wouldn't be our last visit. Before we left the city, the security guards were able to spot us from afar, shouting "Kwaku! Kwabena!" as we approached (our Asante names were easier for them to remember). And all the waiters came to know us, learning what we wanted to drink, and what table we wanted to sit at. For two weeks, we were regulars.
Our favored table was in the patio area, next to the small pond which serves as the centerpiece to the sprawling restaurant. About one hour before sundown, this seating position goes from "pleasant" to "spectacular" as an unbelievable number of bats lift off from the trees of the nearby zoo, and take to the air. The number must be in the tens of thousands, and they almost manage to obscure the sky.
There wasn't any real question about where we wanted to spend our last evening in Kumasi, but lingering doubts were wiped out, when we realized that it also happened to be Ghana's Independence Day, and that Ike's would be throwing a big BBQ party. We showed up at our usual time, exchanged the complicated handshakes favored by the security guards, and ordered up some food. Above us, the bats had already begun swirling; were they earlier because they also wanted to party? Or was the evening just passing by quicker than expected?
It's impossible to say which memories we'll be fondly recalling about Kumasi, years from now. But our visits to Ike's Bar and Grill seems a likely frontrunner. Definitely check it out when you're in town!
Ike's now has accommodation: Ike's Cultural Village