What Happens in the Town of Bongo? You Get One Guess!
You don't have to be an expert in Ghanaian culture to guess that the town of Bongo is known for drumming. Just outside the village, you'll find a formation of giant rocks, which are known for the bizarre, musical tones they produce when struck. We embarked on a hike to this natural orchestra pit, and found ourselves amazed by the area's beauty even more than the famous rocks.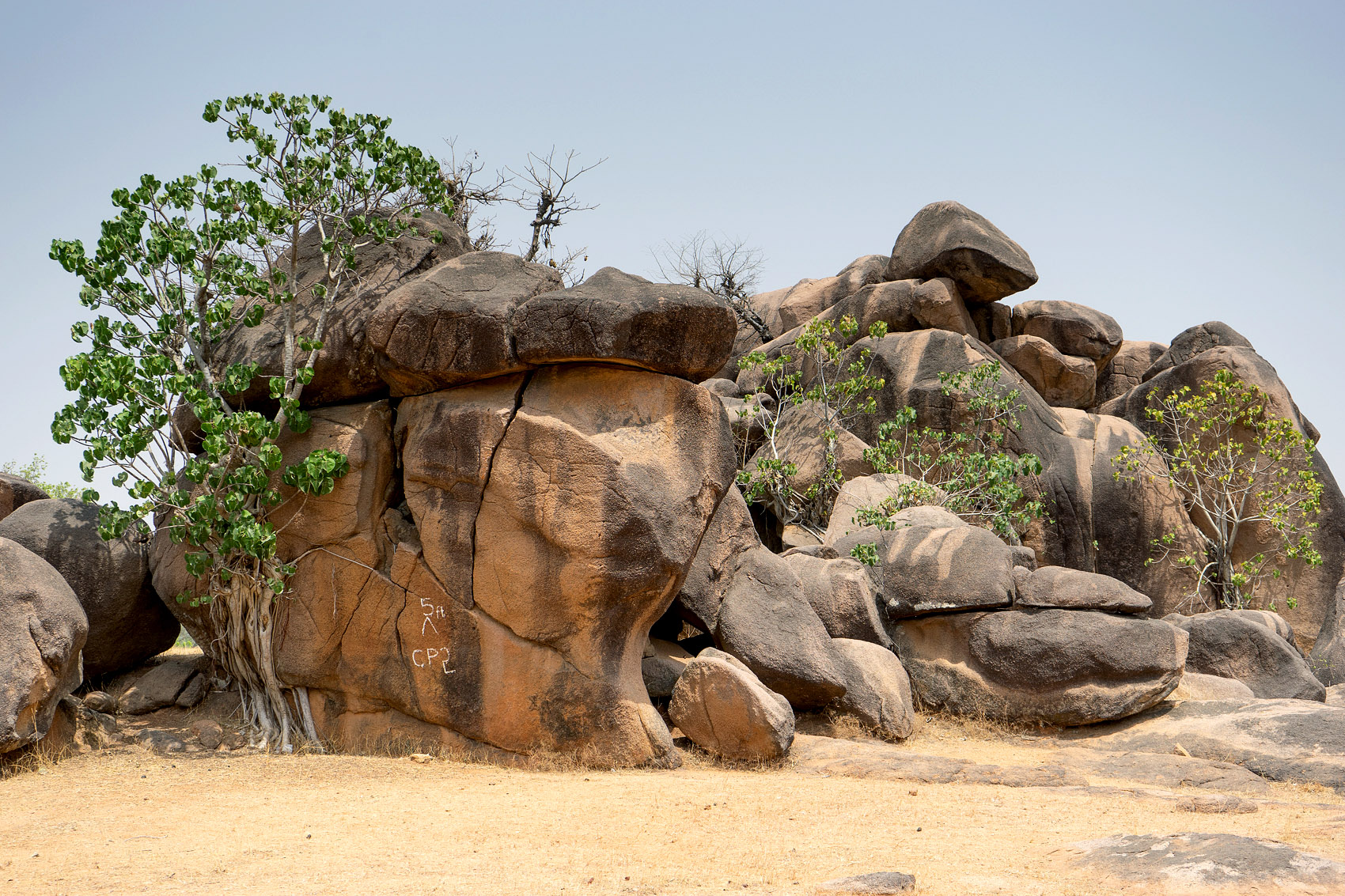 Like so many smaller towns in Ghana, when white faces show up in Bongo, there's not much confusion about what they're looking for. It's not like we've come to Bongo for the God Be Praised Noodle Shack, fifth noodle shack past the market. No, we're here for the Bongo Rocks — just like literally 100% of all other foreigners who've ever emerged from a taxi in Bongo.
So, we didn't have to search for a guide. Within 20 seconds, two guys had claimed us… and we cursed our luck. One was clearly drunk at 9:30am, and the other was so overly eager to be our pal, that we were immediately suspicious. But what could we do? Having been claimed, it's not like any other, more trustworthy, guides were going to step up. So, we allowed Schemey and Stumblez to lead us into the wild.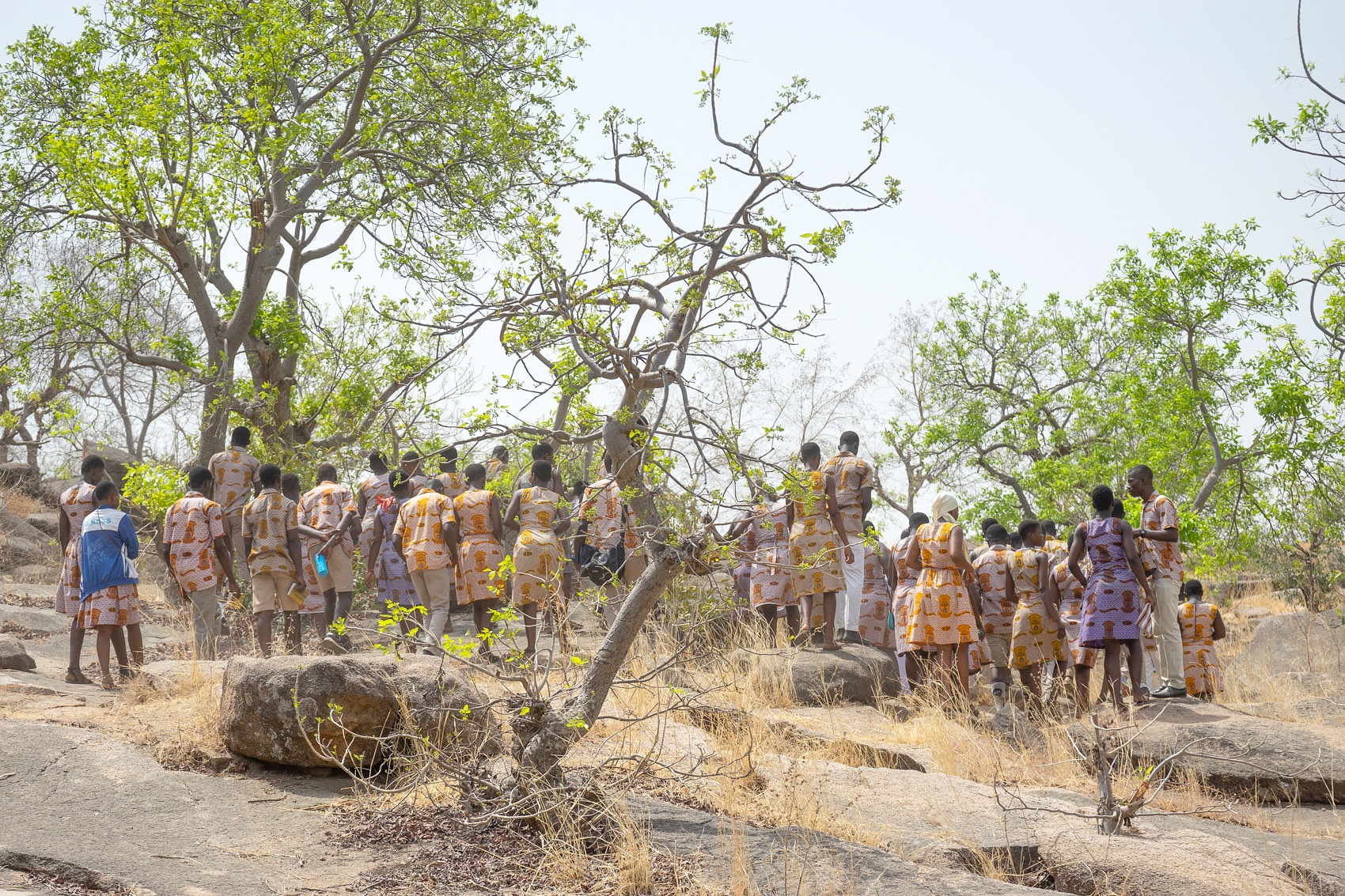 The guides weren't pleasant, but at least they mostly left us in peace, and we followed them in silence for about two kilometers until reaching a section of land that was just breathtaking: giant rocks strewn about a set of weathered, time-worn hills, punctuated with the occasional baobab tree. It really was something to behold, and even if the tour wasn't taking us to the musical rocks, it would have been worth the price just to walk around this area.
The drumming rocks themselves were cool, and made me wonder if this was the origin of the word "bongo". (I'm still unsure, to be honest.) You took a couple strong rocks, and smacked them into the "keys": worn grooves in the stone, where the resonation is best. We played around a little, but not too long… it was neat, but at the end of the day, you're just smacking stones with other stones; the novelty wears off.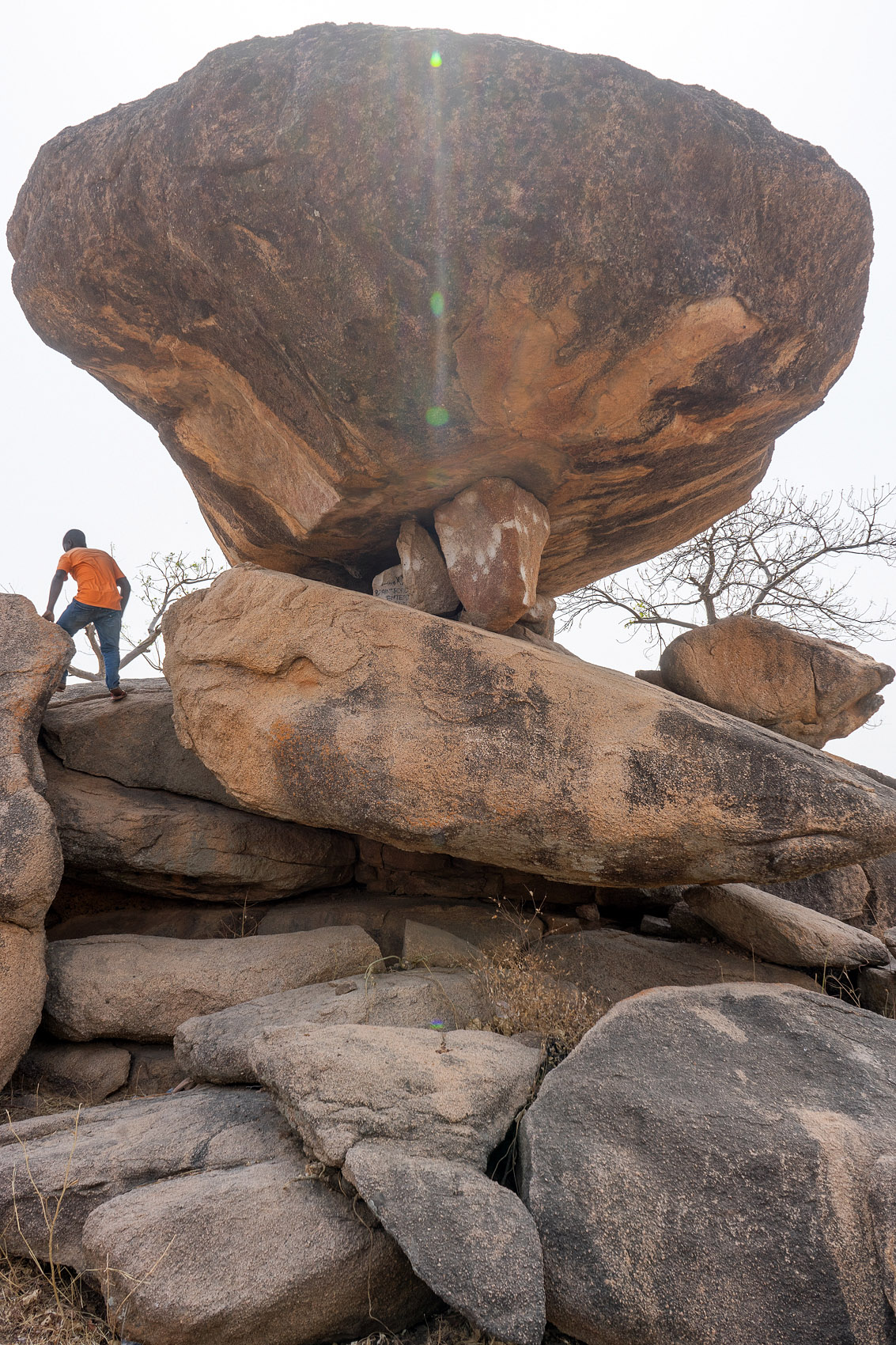 We didn't expect that Schemey and Stumblez would continue the tour, taking us to the top of a nearby holy mountain. We had already paid them, and figured they'd leave after showing us the rocks. But they surprised us, and this was actually the highlight of the day. Poor drunken Stumblez almost died during the ascent … literally: he started falling backwards during one of the steepest sections until desperately grasping a branch. I was starting to worry for him, but he made it to the top along with the rest of our little crew, where we were rewarded with an unexpected concert by a religious group. With rhythmic drumming and joyful singing providing the soundtrack, and the gorgeous scenery splashed out in front of us, this was one of the most stirring moments we'd yet had in Ghana.