Before flying home to Valencia, Spain, we had decided to allow ourselves one more week in Accra, without any sightseeing plans. We needed some time to process the experience of living in Ghana for 91 days, and wanted to simply live, work, relax, and reflect. Instead of returning to Adabraka, we chose to stay on the other side of the capital, in the historic neighborhood of Osu.
During our initial month in Accra, we'd been to Osu on numerous occasions, and had developed a love/hate relationship with it. There are a lot of foreigners here, and a lot of locals preying upon foreigners. It can be tiring. But there are also a ton of genuinely cool bars and great restaurants, and, as long as we stayed far away from Oxford Street, we always had a fun time in the neighborhood.
But during our final week in Accra, our love/hate feelings for Osu shifted definitively toward "hate". Nothing we loved about our stay in Adabraka was present here: the buoyant nightlife, the nonchalant attitude of the locals, the easy acceptance into a new culture. Nope, in Osu, you're a foreigner. You'll go to restaurants marketed to foreigners. You'll be approached by street hustlers because you're a foreigner. And locals, who are understandably sick of foreigners, will treat you with a disdain you won't find anywhere else in Ghana.
Then again, nothing is black-and-white, and rather than focus on the negative energy that seeped into our bones on this final week, we thought to highlight some of the places we did enjoy. First up, is the brand new Bamboo Pizza shop on Sixth Lane (right about here). Far more welcoming than the nearby Mamma Mia, this is a place for regulars from the neighborhood, and we loved both the food and atmosphere. We also enjoyed the nearby sports bar named Epo's.
We had one super-enjoyable meal at Zion Thai, and then one which was so awful we almost got up and left — not the restaurant's fault by the way. But this is one of those places which is far more popular with foreigners than locals, and we were surrounded by bouncy groups of young Americans who like oh. my. god. were like loving all the amazing work they were doing like helping the poor poor people of Ghana like bless their hearts. You know how, like, when young Americans get serious? Like, they have a serious point to make? And start talking in questions? Like, you just want to scream? Yeah, that was our second meal.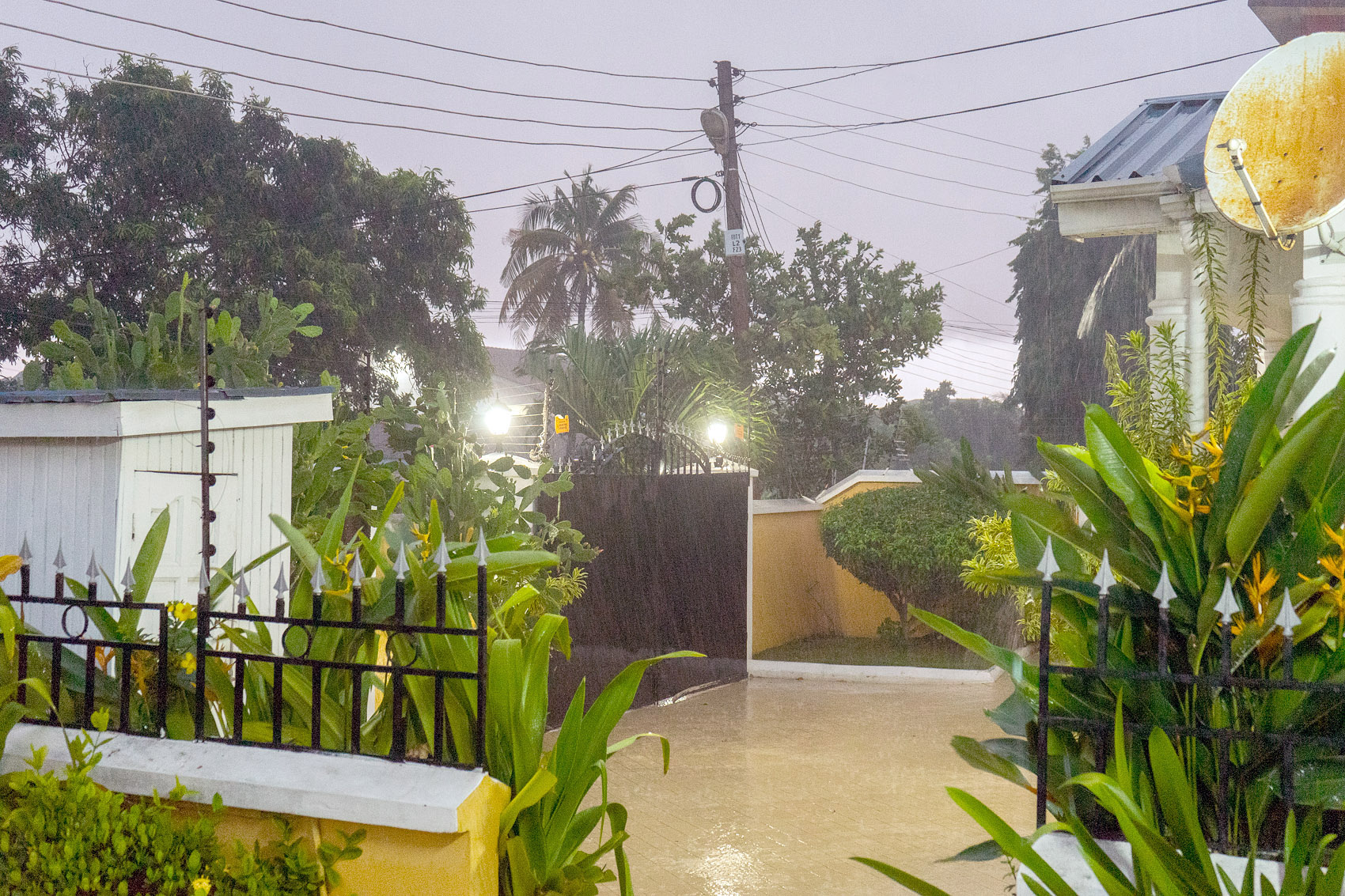 Fleeing the crowds, we actually discovered that our favorite restaurant in Osu was one almost nobody went to: the refreshingly un-hip Albela Indian. Great food, good prices, no annoying do-gooders… and the kicker: Bollywood videos on the TV. We returned here three times in one week.
Kudos also go to the popular Papeye's Fast Food, mostly for the restaurant's pitch-perfect recreation of junky American fast-food culture. Locals love this place, and even though I should know better — coming from the country which peddles this poison — I can't deny the appeal. Huge chunks of fried chicken and generous portions of crispy french fries are something I could resist. But why should I? It was our last week in Ghana, and we had done our share of fufu. Another Papeye Special, please!